We appreciate you checking out our website!
Start working now.
Our team has ample experience marketing goods and services with a strong brand reputation in the North American market.
From traditional branding to digital marketing.
Reach out to us at any time, and let's begin working together toward your goals.
aibd.shakir@gmail.com
(+880) 1703543746
Frequently Asked
Questions
What does a new website cost?
Is it possible to estimate the cost of website development?
The website will be fully customizable and tailored to the client's needs.
There are many options available today for developing your website.
You can approach a website designer (a freelancer) or a website development agency, or you can try developing a website on your own using some effective website builders.
The cost varies according to the requirements and method used to build your website.
At AffiliateIncomeBD, we set prices after doing a separate analysis of each project, and we work to get the results we want after brainstorming.
Additional Information:
Basically, the size of the website, the quality of the design, and the specific functionality put into the website are all elements that influence the cost of a website.
A website may range in price from $500 to hundreds of thousands of dollars.
We don't believe a $500 website will provide you with any value, but you don't have to spend a lot of money to create a website that matches your objectives.
Budget! What are your budgetary expectations for a website?
It may assist you and any potential web designer in figuring out what you can receive for your money.
Next, you can figure out what your website needs to do to be considered a success. As a starting point, most of our clients need the following from their websites:
Make your target customer feel confidence in your company;
Be entertaining and relevant to your target customer;
Address your target customer's concerns and objectives; and
Motivate your target customers to take action (towards buying)
What do you need a website for to do this?
There are important questions to explore, including:
Do you need e-commerce?
Do you need any specialized features?
Do you need images of your team members or products?
Do you need movies, such as testimonials or explanation videos, or anything else?
Do you need someone to write the copy (website text)?
How many pages are planned for the website?
Any of these variables might have an influence on the cost of your website.
What is your payment procedure?
Our payment procedures are simple, safe, and transparent.
PayPal and Wise.com are two safe payment channels that we accept.
We accept wire transfers as well.
After receiving our invoice, you may choose a payment option and complete the transaction.
What is the process for working with a website design company?
It should be possible to get assistance from a web design firm while you build your expert website.
These should help you understand what your company's goals are, how they affect, how your website is made, and how you market your business online in general.
At the very least, you should be prepared to explain to your web designer what you're attempting to accomplish, how you want your website to be designed, and what information you'll be using on it (or a framework of the content that you want so they can write it for you)
Please refer to the Website Buyer's Checklist if you want a more thorough grasp of the topics you should go over with your website designer.
How do you make my website?
We create your website after thoroughly researching your needs. We make certain to set the finest and most appropriate domain name, hosting provider, unique design, and content. We also make sure that your website meets all of your needs, such as SEO and performance optimization. The workflow flow that we use at AffiliateIncomeBD is shown in the screenshot below.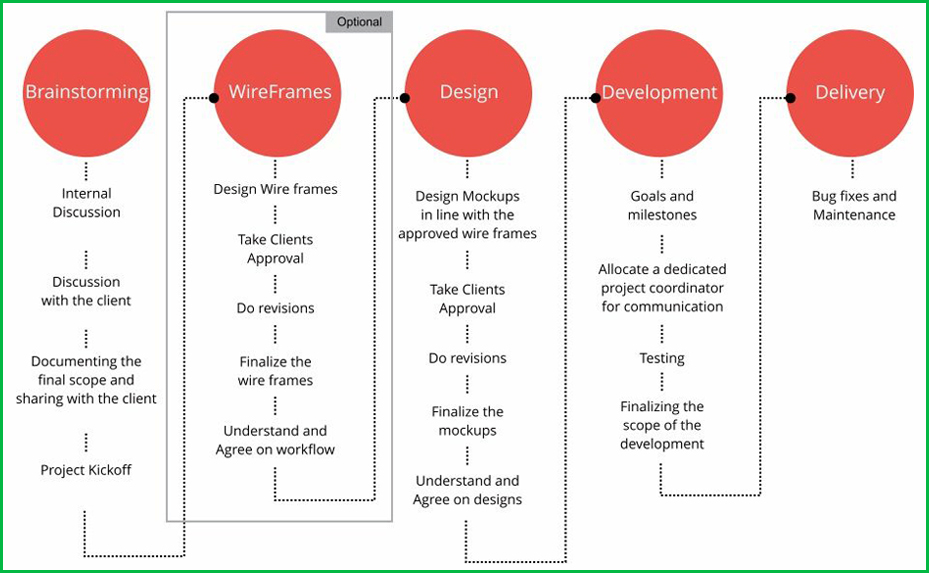 Is it necessary to upgrade my website to HTTPS rather than HTTP?
Of course, you should not make any concessions on this.
It is critical to upgrade your website to use HTTPS rather than HTTP since HTTPS is thought to address data security concerns.
Encrypting your data with an SSL certificate will secure it.
Websites that handle eCommerce, financial transactions, and user data should be required to use HTTPS to keep user data safe from hackers.
If your website lacks a valid SSL certificate, the browser flags it as an issue and shows the notice "connection is not secure," as seen in the picture below.
Make sure your website has a secure connection by adding the essential security parameters.
What exactly is the difference between CMS, DNS, HOSTING, and FTP?
DNS

: DNS is an abbreviation for Domain Name System. It joins your domain name and web host's IP address to make your website operational.

Hosting

: Web hosting is the service that stores all of your website's files online for you. Your hosting provider makes server space available for your files.

FTP

: FTP, or File Transfer Protocol, is a protocol used to access and exchange data between computers. FTP provides safe and encrypted transfers by protecting your data from unwanted access.

CMS

: A CMS is the platform on which your website is constructed. CMS lets you control the content of your website and let other people use it in different ways.
Who is in charge of the website's Hosting?
To develop your website, you must first choose a provider to host it, which makes your website visible online.
Some of the greatest hosting companies on the market are Bluehost, Fastcomet, Interserver.net, A2Hosting, Godaddy, Namechip, etc.
If you are unfamiliar with these hosting services, we can propose the best one for your needs, or we can assist you with your current provider if you already have one.
What is the price of Hosting?
The pricing varies depending on the Hosting Service Provider and the kind of hosting you pick.
Select the best-fitting hosting type and provider from the market possibilities.
Which platform do you choose for creating your websites?
Related Question: What is WordPress? Or, Why should I design my website using WordPress?
Even though there are other tools that can help you make a unique and well-designed website, about half of all websites online are powered by WordPress.
We specialize in WordPress website development.
Most people use WordPress as their content management system (CMS).
A content management system (CMS) is an interface that makes it easier to build and run a website.
WordPress is an open-source, cost-free CMS.
WordPress has been used to create more than 60 million unique website layouts.
Visit Wikipedia to learn more about WordPress.
We will recommend the ideal platform for your needs based on your specifications.
Do you primarily make WordPress websites?
WordPress is on the rise.
Other systems, such as Shopify, Laravel, and others, may be used to create websites, but WordPress stands out.
WordPress is very helpful and adaptable in the creation of any form of website.
Understanding the project needs and selecting the most appropriate platform can aid in providing better outcomes.
Will my website be compatible with mobile devices?
They want to do things like purchase tickets, order online, and browse on the move.
As a result, designing a responsive website will aid in improving the appearance and experience of your website on both small and large devices.
It also boosts the amount of visits and search engine rankings.
Yes, we promise to make a responsive website that will be appealing to your visitors and give them the best browsing experience possible.
Can my website work on all Apple and Android smartphones?
Indeed, we develop responsive websites that are available on both Apple and Android smartphones.
Will you take care of my website?
Frequent maintenance is required for a website to maintain its flexibility and dependability.
Appropriate maintenance will assist in ensuring the security of your website, attract new users, increase traffic, and more.
Of course, we can assist you with suitable and professional website maintenance in addition to development, as it aids in attaining stable growth and keeping your company motivated.
How long does the website-making process take?
If you hire a competent website development business, it will take 1 to 4 months from start to finish for simple information websites with limited functionality.
Website builders may help you develop your website faster, but they are difficult to depend on since you must manage everything from the start.
Expert advice or opinion may aid in obtaining better outcomes.
What if I subsequently need help with my website?
You are welcome to contact us whenever you need our support.
Our experts can resolve the issue and restore your site's functionality.
At AffiliateIncomeBD, we first investigate the root causes and then test all technological parameters to determine the best solution for restoring your website.
We would also recommend that you hire frequent website maintenance services to prevent your website's functions from deteriorating.
Can I make changes to the website after it has been built?
Absolutely, you can and should maintain and upgrade your website once it is established.
If you do not keep your website updated with new information, you risk losing your online exposure in search engines.
At AffiliateIncomeBD, we have a policy of providing our customers with documentation on how the contents may be easily modified in the backend in the future.
Hence, be sure to maintain your website updated on a regular basis, and yes, we can assist you with that.
Is it possible for me to have an email registration form on my website? How am I going to accomplish this?
This is a fantastic way to increase the number of leads coming into your organization.
You can add a sign-up form to your website using any of the top email marketing services, such as MailChimp, SendinBlue, ActiveCampaign, and others.
Make sure the widget is appealing to your visitors and easy to find before you set up the registration form.
How many pages does my website include?
We can work on it according to your specifications.
We advocate creating a website with a few pages since it will aid in future SEO optimization, and adding additional material to single-page websites is difficult.
I already have a website; how simple is it to update it?
The degree of complexity of upgrading an existing one is determined by the adjustments that are necessary.
If the need is highly complicated, it may take time to fulfill it; however, if only small adjustments are required, they may be handled and supplied as soon as possible.
At AffiliateIncomeBD, we will review the needs with our customer and then begin taking the appropriate steps.
How long will it take to get to Google's first page?
It normally takes at least 6 months for your website to appear on Google's first page, and this is entirely dependent on the complexity of the keywords utilized in your website.
It's a bit of a surprise, since competition is so fierce these days and almost every company wants to build SEO-friendly websites.
Do you include SEO in your website design?
Yes, we have a basic SEO setup bundle that includes things like setting up metadata, tracking, and analytics.
Customers may also request a monthly price for additional SEO services for further optimization.
It is crucial to work on a website's SEO since it significantly boosts traffic and conversions.
Sure, we optimize your website for SEO since it is one of the most important aspects of increasing your chances of acquiring more leads.
Could you help me create content for my website?
We can certainly assist you in adding relevant material to your website.
Our copywriters can help you make professional content by first learning about your needs and the goals of your business.
At AffiliateIncomeBD, we provide material for landing sites, service pages, and we also make it a habit to produce relevant blogs for your company and keep them up-to-date on a regular basis.
For more information, please take a look at our content marketing services.
Would I lose Google ranking if I revamped or restructured my website?
If you do it right, you won't lose your ranking because we have strict guidelines for redesigning.
It will also help you get more exposure because your company will stand out with updated and optimized designs.
Can you help me enhance my site without creating a new one?
We can assist you in increasing the design, functionality, and general performance of your website without the need for a new one with our maintenance service.
Our skilled UI/UX professionals can also provide ideas for increasing the user experience on an existing website, allowing us to easily improve your current website.
What is your project management procedure?
Our project management method includes everything, from start to finish.
We first understand and plan based on the requirements, then prioritize the activities and begin the execution with a well-structured process flow.
Throughout the execution, we ensure that the project is tracked and monitored, and at the final stage, we ensure that the project is troubleshooted, tested, and delivered along with a final report.
Are you capable of handling continuous maintenance?
Of course, we can maintain a live website. We believe it is a great idea if your website can be updated often.
Ongoing maintenance may boost productivity, increase security, and lower the chance of failure.
Will I have a full-time developer?
Absolutely, a full-time, dedicated developer may be assigned.
It may assist in generating productive output if your website is developed, maintained, and updated by a full-time, devoted developer.
What is the maximum number of developers I may employ for my project?
This is entirely dependent on your requirements.
Depending on your needs, you may employ developers for the project.
I'm unhappy with my present website; might you assist me?
We are here to assist you.
We can redesign your website and make it faster and better for SEO, which will help people find you online.
Can I continue to use my current domain name for my website?
It sounds fantastic.
We can certainly continue if you already have one that works for your company.
Do you give a refund if I am dissatisfied with my site's design?
Oops!
I hope similar incidents do not occur.
We make certain to communicate and solicit your input at each level of development that we complete.
Our standard procedure is to provide the customer with a weekly report on what has been achieved and to continue working in accordance with their ideas.
I'm not sure what my precise criteria are! Could you please assist me?
Indeed!
We can assist you with tracking your needs via an in-depth conversation.
What if I need updates or revisions to a web project that you or another company created in the future?
It shouldn't be a problem.
We can manage and work on it in accordance with your recommendations and needs.
Do you have any international clients? If so, how so?
Yes, we do business with people from other countries, and our offshore partners make up 80% of AffiliateIncomeBD's business.
We strive to maintain positive relationships with our customers from the start to the finish.
We make it a habit to keep the customer up to date on the state of the project by connecting via an online meeting portal, which allows us to better understand their needs.
Do you redesign existing websites?
We can do it; it will take time, but we can do it with our creative and prolific designers.
Some little changes to your current website, together with the appropriate implementations, may aid in a successful launch.
For what kind of businesses do you create web designs?
We work with startups, non-profits, medium and small-sized businesses.
We thoroughly grasp our clients' needs, plan, organize, and work hard to achieve outstanding outcomes.
I may get a free template from a business such as Wix. Why should I pay you to make me a website?
You're absolutely correct.
There are free website design templates available on the market, but you may not have complete flexibility to customize it to your specifications, and choosing a pre-built template for a website will not help you stand out from the crowd.
We can create your website with unique designs that are tailored to your demands, as well as some originality and professionalism.
Is it possible for me to view the design before it is built?
Sure, absolutely.
We practice getting our clients to approve our designs.
This would allow us to make the necessary improvements before beginning work.
What kinds of websites have you worked on?
We've created service websites for sectors such as Law-Firm, Restuarant, Hotel, Travel, Healthcare, E-Learning, Non-Profit, Real Estate and eCommerce.
Do you have any examples of websites that you've created?
You may get a sense of what we do by looking through our portfolio.
Have a peek at our site design services as well.
Can you create a logo for me?
Absolutely, we can assist you in creating a logo that is appropriate for your company since we have skilled designers on staff.
Your logo will be original, attractive, and unique, we promise.
How might a well-designed website benefit my company?
A well-designed website will improve the user experience, which is critical for increasing conversions.
When you make a website that is well-organized, your clients and visitors will find it pleasing to the eye.
This will attract an increasing number of prospective clients.
The first step to success is to make a good impression on your visitors and customers, which you can only do by having a well-designed website.
Is it necessary to choose a template for my website's design?
Absolutely, you may choose it, and it will also aid us in personalizing by allowing us to better understand your expectations.
Can you utilize the design that I already have for my website?
It is fantastic.
We may utilize it and, if required, adapt it depending on your expectations.
What content management system do you use for web design?
We make certain that the finest CMS for the client's needs is chosen.
We often employ WordPress as well as page builder like DIVI.
What is your design process like?
At AffiliateIncomeBD, we first design the wireframe, then get customer permission, make adjustments, and then finalize the framework and agree on the process.
After agreement on the procedure, we develop mockups in accordance with the accepted wireframes.
Get client approval; finalize the mockups; and agree on the design.
Redesigning a website usually takes how long?
Redesigning a website may take time, but when done well, it may help generate more leads.
When you hire a professional agency to help you rebuild a website, they can help you use the best and most effective strategies because they have professional designers, developers, and content creators who can give you better results.
What if my website fails?
Avoid making assumptions.
The site may be down for a variety of reasons, including transitory issues, hosting issues, and so on.
Your website may have been hacked, or it may be the result of a technical problem that must be corrected.
We assist in the analysis of the issue and the provision of solutions based on it.
Professional Web Design!
Spend neither effort nor money on a nonfunctional website.
Results are required.
The User Experience Is Everything!
To build dynamic web apps, we concentrate on user experience, technology, and design.
We use agile development methods to make responsive websites for our clients that they can edit themselves using content management systems (CMS).
Our skilled advisors are available to assist you!
If you have a question, please feel free to connect with us.
At AFFILIATEINCOMEBD, we can help you with an awesome web design, digital marketing strategy, persuasive copy, getting traffic to your website and more.
Contact us to get your Digital Marketing to work the way you need it to.